Halloween is almost upon us and I have been so busy with all of my sewing projects that I almost forgot about my Craft Lightning Project!
I wanted to make something fun to dress up my plain old boring dinner table, so I decided on this Pumpkin Centerpiece made from a faux carvable pumpkin from the Dollar Store.
This cute project can be completed in 15 minutes or less if you are in a hurry!
When I started out...I took out a ton of my craft stuff just to get some inspiration and ideas...
You can see my MESS here...
I tried different combos to get an idea of what I wanted...like adding faux leaves,spanish moss and ribbon to the pumpkin, but after a lot of experimentation, I settled on ric-rac, lace and bead trim to give the pumpkin a bit of a Steampunk look.
Here is a quick photo collage view of the steps I took to make this project:
Here are the supplies/tools I used for this project:
List of Supplies/Tools used:
Faux Pumpkin, Carvable (from Dollar Store)
Old Candlestick (from Yardsale)
Craft Mat, Inkssentials, Ranger Ink
Black Braid Ric-Rac Trim, (Decorative Trim Brand sold at Hobby Lobby)
Orange & Black Ribbon, Polyester and Wire
Black and Gold Lace, 3-1/2" wide, (Unknown Brand, from craft stash)
Thread, White, 100% Polyester, Excell Brand
Sewing Needle
Scissors, Wescott Brand, Craft Scissors (from WalMart)
E6000 Glue
Ad Tech Glue Gun, 2-Temp, Cordless
Glue Sticks, Ad Tech, Multi-Temp
Beads, Gold, (small...exact size and brand unknown, from craft stash)
I am always happy to participate in the Craft Lightning Series of Quick Crafts hosted by Angie at
The Country Chic Cottage
and Carolina at
30 Minute Crafts
!
Be sure to check out their blogs to see more fun, creative and super fast Halloween Ideas!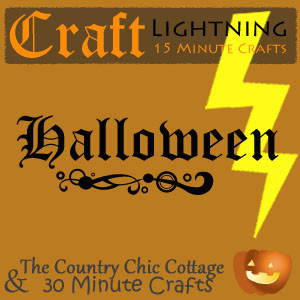 Thanks so much for stopping by and checking out my Halloween Centerpiece!
As always, I love hearing from you, so leave a comment if you'd like or come visit me on social media (see links in my blog sidebar).