A little bit of this and a little bit of that, from a stay-at-home Grandma of Eight! I love to do all kinds of crafts, especially sewing & scrapbooking so I will probably be posting pics of those kinds of things and tid-bits about the Grandma Life!
Tuesday, December 7, 2010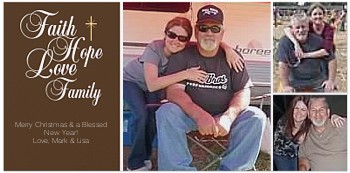 Faith Love Family Religious

Posted by

Stuff-n-Such By Lisa
at 4:17 PM
0 comments


Sunday, November 7, 2010
When I fist started blogging a few years ago, I'll have to admit I was a bit depressed as I was going through the dreaded "empty nest" syndrome!
I recently read through that old blog and was stunned at how bad I sounded and I realized that no one wants to read that stuff!
With a lot of praying and 3 beautiful blessings from God (My Grandchildren!) I finally came out of my depression and have been happily crafting & sewing again, while caring for my Granddaughter during the week.
I'm hoping to make this blog a little more positive & uplifting.
Maybe I can pass on some Grandmotherly wisdom and a few crafting tidbits!
Don't know how exciting it will be, but I do feel thankful to have a renewed sense of purpose in my life and I'd like to share it with anyone who is interested!
Posted by

Stuff-n-Such By Lisa
at 8:16 PM
0 comments