Do you remember going to summer camp or vacation bible school when you were a kid?
I do...and my favorite part was the fun crafts we'd do there!
So, needless to say...I was pretty happy to be a part of this latest Craft Lightning series..."Camp Crafts"!
When I think of the crafts I made as a kid in camp, I think of how the camp counselors did so well at planning the projects to not only encourage creativity but make it easy and practical for a large group of kids!
With that in mind, I decided to make a monogrammed coaster, made from simple and inexpensive bathroom tiles. (I have found TONS of these at yard sales for mere pennies for a load of them!)
Even if you have to purchase these at a hardware store, you can usually get the plain white one's fairly cheap.
I knew that the supplies needed to make this project would be readily available or easily obtainable and affordable for a large group.
Not only that, but it makes a nice gift for Mom, Dad, Grandma or Grandpa.
Parent's and Grandparent's really treasure handmade gifts from their little ones!
This project can also be adjusted easily to make use of other items you might have on hand instead of the exact materials I used here. (See tips below near the end of this post)
For the background of the tile, I decided to use some old "ephemera" I have been collecting lately.
Since It was going to be a "monogrammed" tile, I thought an old dictionary page would be great!
I just happened to have a HUGE old dictionary laying around that I purchased last year for a song and a dance at a yard sale!
I remember Hubs being perplexed as to why I would want to have that monstrous book in our home, when I could use an online dictionary any time.
I explained to him that it would make great ephemera for altered art projects and he has been teasing me ever since about the word "ephemera"...he thinks it sounds funny and he always purposely mis-prounounces it when he says it!
Anyway...I am getting sidetracked here...
I decided to make the coaster for our home, so I purposely used a dictionary page from the "H" section and found the page with the word "Hall" on it...to make the coaster extra special!
(How lucky for me that my Hubby gave me that last name...easy to find that one in a dictionary!)
I glued the page piece on the tile and then covered it with a layer of ModPodge and let it dry.
I used my Cricut Explore to cut out the Monogrammed Intial on black cardstock and then I glued the Capital Letter to the covered tile and then placed a heavy flat surfaced weight on it to make sure it dried perfectly flat.
(Did you notice...my "weight" is a very old school iron! Another one of my fab finds at a yard sale!)
Next I cut a piece of black felt to the size of the tile and glued it to the back side, to make the coaster scratch proof on furniture.
For a nice finishing touch I added some black satin poly ribbon around the edges.
After the front and back side were weighted and dried, I covered the entire front side with another coat of ModPodge.
(I put several coats of ModPodge on, but it's really a matter of preference, as one good thick coat is usually fine, just be sure to dry thoroughly between coats if you decide to do more than one.)
Here is a collage of the steps I took in making this project: (Click on the photo to make it larger)
Here are the supplies/tools used for this project:
Tools/Supplies List:
Cricut Explore
Laptop Computer
Cricut Design Space (online)
"H" Letter Diecut (Font: Winter Woodland )
Black Cardstock
Cricut Spatula Tool
Cricut Paper Trimmer
Cricut Ruler
Ceramic Tile, Off White, Square (4-1/4" x 4-1/4")
Ephemera Page (From Old Dictionary)
Pencil
Scissors
Aleene's Tacky Glue
ModPodge
Paint Brush, Regular
Paint Brush, Foam
Small plastic container (for mixing, thinning ModPodge as necessary)
Wax Paper
Heavy, smooth surfaced weight
Black Felt
Tailor's Chalk, Dritz, White
Ribbon, Satin (100% Polyester),Berwick/Offray, Black, 1/4"
Ideas for possible substitutions and tips for this project:
1) Instead of a tile, try using popsicle sticks glued together to form a square coaster or use old cd's to make round coasters.
2) Small pieces of scrap rubber or eraser pieces can be substituted for the felt as a scratch barrier on the bottom of the coaster
3) The Initial can be painted on, on hand cut from cardstock rather than use a die-cut machine
4) Have kids cut-up pictures and words from old magazines or books to ModPodge onto the coaster
5) Use scrapbooking paper, wrapping paper or tissue paper on the tile/coaster in place of the dictionary page
6) Have kids use things from nature, such as dried leaves or dried flower petals to decorate the coaster. (Be sure they are dried though, because fresh leaves or flowers won't work well with ModPodge!)
7) A handprint or fingerprint design from the child would be a nice gift for Parents or Grandparents...be sure to have the child do the prints on paper first and then glue and ModPodge them to the coaster.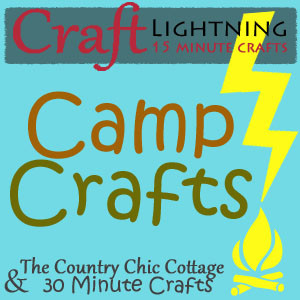 Many thanks to my Crafty Friends Carolina from
30 Minute Crafts
and Angie from
The Country Chic Cottage
for once again hosting an awesome Craft Lightning Event!
Be sure to check out their blogs to see more fun Camp Crafts this week!